1
« on: November 12, 2019, 01:31 »
Hello guys!
Shabere, whom you may not know very well, was the guitarist of Renato Mondele and his band: African Ngwasuma in London. Though I don't know too much about his background in Congo, but being the manager of the band, I knew him well, and I can tell he was a very talented guy. What I really liked about him was that he was so authentic. His art represented something that was true Congolese. Though he is gone, his music remains with us, and I am glad that on the forthcoming album of the band, some very nice pieces of his creativity will be heard. I also managed to capture him on camera at his home 2 years ago, where he showed some guitar tricks, that I will upload in the future sometimes, and that will be really helpful to others.
Sadly, in spite of being creative, his life was not easy, and unfortunately he did not leave anything after himself, property or money. Actually he was in hospital in the recent year. At the moment, we are raising funds to be able to bury him.
I would appreciate if you could support our mission, and make a donation. I am planning to raise 1000-2000 GBP for the purpose. if you could help in that, it would be great. Any amount would help, even if it's just a few pounds or dollar.
You can send donation to the PayPal account of the band leader, Renato Mondele to:
renatomondelepay@hotmail.com
You can send money to my bank account as well. I have different currency accounts for EUR, USD, GBP and other currecies, request details from me in a private message. Maybe we I have an account in your country, and that way it means less fees for you.
Alternatively you can your donation by Western Union to me, request for my details in a private message, too.
I will report the level of the donated sum here every day in a comment. The donated cash will be given to Renato who is dealing with the process of the burial. We will make some photos of the burial as well so you can see we could make it happen.
You can donate in person as well at Maestro Bar if you live in London, see the details on this flyer below: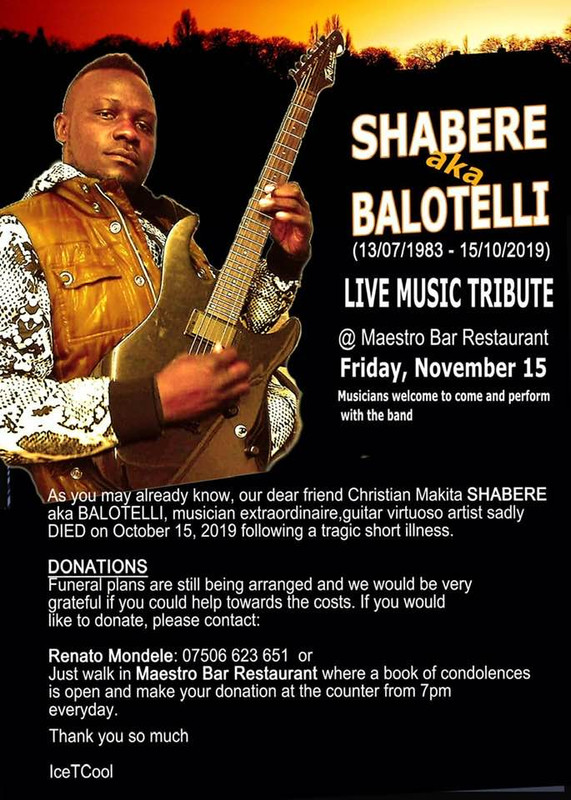 Finally, some videos with Shabere:
He is the guy singing Shabacika in the beginning and then playing on stage:
Here he plays bass in the studio:
Thank you in advance!