1
« on: July 16, 2018, 07:42 »
Mboottte ladies and gentlemen
. Let's discuss the history of Rumba/Soukous and how it influence the Afro diaspora of today. We'll also discuss the introduction of Ndombolo, Congolese migration of East & West Africa, guitarists who changed the game, etc.
When people hear of Rumba, they identify it with Cuban-Son but Son is just one of the many variants of this interesting genre.
In the 1930's, a French Antillean man by the name of Jean Rèal of Brazzaville and a group of Pointe Noires called Kato were already using the name "Kongo Rumba"(
https://books.google.com/books?id=gKEHO1z413EC&pg=PA19&lpg=PA19&dq=jean+real+congo+rumba&source=bl&ots=-xvffaHDxi&sig=cw3xWTymvaLJScgGPzeuvLy9law&hl=en&sa=X&ved=2ahUKEwjqwMyw3aLcAhUJK8AKHdTABhUQ6AEwFXoECAcQAQ#v=onepage&q=jean%20real%20congo%20rumba&f=false
). Unfortunately, I could not find any audio
Now, let's dive in. In the 1940's, they were two pioneers such as Paul Kamba and Wendo Kolosoy "Papa. Paul Kamba is depicted as the shaping Modern Congolese Music. In 1942, he discovers a group called "Victoria Brazza".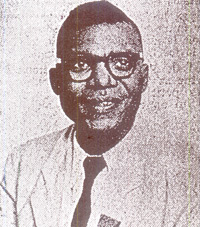 (
http://maziki.fr/histoire-de-la-musique-centrafricaine/viles-precurseurs-de-la-rumba-congolaise
)
In 1946, a young Wendo who was a self taught mechanic and boxer formed the band "Victoria Bakolo Miziki -- fusing traditional Congolese folklore with tibits of Cuban Son. From returning from a fight, he joins up with a Greek business who signs him to then Leopoldville (Kinshasa) label-Ngoma. This lead to the recording of the timeless classic "Marie Louise" in 1948.
Some say, this was the....first recorded song to have a "sebene". Henri Bowane is credited as guitarist. The song "Marie Louise" is said to rise the dead from the cemetery. Due to Radio Congolia, this was a big hit in West Africa.
This form of Rumba known as
"Rumba Sukuma"
. The other Latin tinctured Rumba is called Rumba Fiesta -- will later go into this.
Note that the name "Victoria" still to prove democracies on the Nazis, where Brazzaville plays an eminent role: virtual capital of the "Free France", it hosts in 1944 the "African-French Conference" where a speech by the General de Gaulle shyly lays the foundations of emancipation. De Gaulle, aware that he owes everything to the radio, hastens to give considerable resources to the transmitter of Brazzaville, which becomes the most powerful of the continent.
There was another pioneer that goes by the name of Elenga Zakari aka Jhimmy Le Hawaiean. He hails from Bangui, Central African Republic. He comes to Leopoldville (Kinshasa) in 1946 in where he meets with the Ngoma's label musicians such as Papa Wendo, Henri Bowane, Manuel D'olivera, Paul Mwanga and Adou Elenga. Around this time, singers are accompanied by two guitarists and percussionist. He revamped Congolese music by adding guitar solos into the mix of a complete band including 1 rhythm guitar, 1 solo guitar, 1 double bass, 1 saxophonists, singers and percussionist. He is responsible for training both Tino Barosa and Charles "Dechaud" Mwamba (
http://www.congopage.com/Le-duo-memorable-Jhimmy-na-Mwanga
).
Adou Elenga
Maria Tebbo "original" later reprise by Sam Mangwana "Le Pigeon Voyageur"
Paul Mwanga
Paul Mwanga is considered as one of the precursors of Modern Congolese music. He hails from Angola. He updated the traditional Maringa and fused with the Highlife of West Afrca, Polka Pike, etc (
http://www.congopage.com/Le-duo-memorable-Jhimmy-na-Mwanga
).
Part 2 will be addressing the introduction of Grand Kalle & African Jazz, Docteur Nico, Dechaud, etc. Stay tuned!